We are thrilled to be the Prestige Award recipient of the Canadian Sport Tourism Alliance (CSTA) Canadian Sport Event of the Year Award (Group A: budget greater than $1 million)  presented at the 11th PRESTIGE Awards gala luncheon on March 21, 2017.
We share this award with the Organizing Committees for the Quebec races (Gatineau, Quebec City and Canmore), Cross Country Canada, all our hard working volunteers, several supportive sponsors and the Government of Alberta and Canada  who made this event possible in Canmore and Canada.  Winning this award validates the value events have in supporting a local economy and the value events have for job creation and tourism development.
The Alberta World Cup Society will continue to work hard to keep bringing world-class cross-country ski events to Canmore.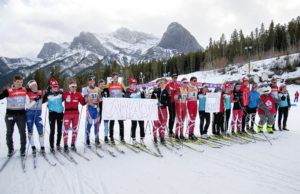 SKI TOUR CANADA 2016
Over 12 days, 400 of the world's top cross country skiers, from 25 nations, took part in the first World Cup Cross Country Finals ever staged outside of Europe. Combining city park races in such iconic locations as the Plains of Abraham in Quebec City, Mont Royal in Montreal, and Jacques Cartier Park in Gatineau with Alberta's spectacular Canmore Nordic Centre Provincial Park, Ski Tour Canada 2016 showcased our ability to stage a massive multi-site event. Featuring ski expos at each stop that engaged people of all ages, it also generated awareness of Canada's winter sport communities world-wide. The Ski Tour Canada 2016 had an operating budget of $8.3 million. Live-streamed in Canada, it reached an international audience of over 52 million viewers.
Press release from CSTA available here