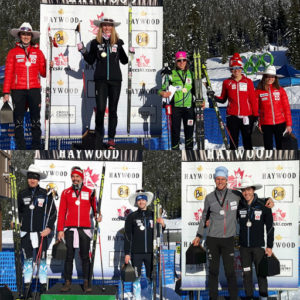 The Academy men swept the sprint podium, as the team dominated the Western Canadian Championships in Whistler B.C., Jan 21-23.
With Knute Johnsgaard away on the World Cup, AWCA alumnus Jesse Cockney stepped in to take the open men's title

Friday

(Jan. 21) in the skate sprint, followed by speed merchant Julien Locke and Dominique Moncion-Groulx. The Westerns podium was a first for Moncion-Groulx, who has been one of the Academy's steadiest skiers this year.
"It was good to see 'Do' step onto the men's podium," said coach Scott Perras. "We wanted to sweep the podium. We adopted Jesse Cockney, who trained with the Academy for years, and needed someone else to step up. 'Do' was able to do that for us."
The race also represented a big milestone for Locke, who is returning to form after returning from injury. Locke will race on the World Cup in South Korea next week, and the coaching staff is very happy with his recovery.
"Julien was a little disappointed not to be first, but overall he had a good trip," Perras said. "Injuries do come in the sport and it's a part of our job to make sure they don't come back too early, which is what every athlete wants to do. Overall he was good with it."
After a few tough weekends, the coaching staff challenged many of their racers to step up their game. Perras said Moncion-Groulx did just that in Whistler.
The Quebec athlete is now beginning to realize his potential, and Perras said he could have easily had two podiums on the weekend, were it not for a crash

on Saturday

.
"The big highlight in Whistler was 'Do' with his third place in the sprint," Perras said. "He's really suited for all around races. If there was a five km race, he would be incredible. The skate sprint is his strength and he was able to show that. He was in great shape."
Dahria Beatty and Olivia Bouffard-Nesbitt finished first and second in the open women's skate sprint as they round into form before world championships, as the duo showed dominant speed. Maya MacIsaac-Jones won the 'B' final, while Delphine Duvarnay Tardif was 11th.
In

Sunday's

10 km classic, Beatty took the silver medal, finishing 16 seconds behind Emily Nishikawa.

 

Maya MacIsaac-Jones put on a AWCA cowboy hat for the first time of her career with a bronze medal performance.
Perras said he was most encouraged by MacIsaac-Jones, who is on track for strong races at the U23 World Championships next month.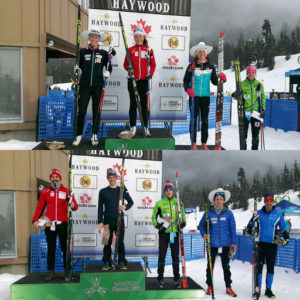 "For Dahria and Maya, it was good to see they can perform with high volume loads," Perras said.
Duvernay-Tardif finished 12th in the open women's category.
Cockney took second place in the men's 15 km classic race, finishing 4.2 seconds behind Andy Shields of Thunder Bay. Jack Carlyle took fourth, Patrick Stewart-Jones was seventh, while Antoine Hebert impressed in eighth place.
"Antoine did a great job. It was by far his best race of the year. We expected to see that result in Soldier Hollow, but he got sick. It's good to see he is in good shape," Perras said.
The team scatters this week, with some athletes traveling to Eastern ski championships, while others await world championship and world junior championship announcements. Perras will travel with the U23 team, while coach Chris Jeffries will work with the world championship team in Lahti, Finland.