Join us for the annual fundraiser Duathlon Strides and Glides 2021, organized in collaboration with Strides Canmore.
When: Thursday, October 28th, 2021 at 6:45 PM
Where:  Canmore Nordic Centre Provincial Park – Canmore, Alberta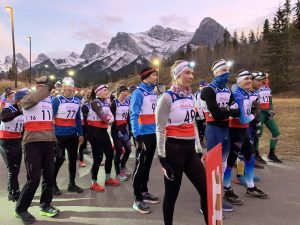 3km Running Race on Banff Trail followed by 5km Freestyle or Classic ski on Frozen Thunder. Vaccination and headlamps will be required to participate.
Solo or teams of 2 (one does the running and other does the skiing part)
Cost per participant: $25
Join us for Pizza & Beer/Pop and the Award Ceremony after the race at the Bill Warren Training Centre (Beer $6 and Pizza $5 each.
Please note that the course map was revised to make it safer with the current snow conditions (updated October 27):
Registration: https://zone4.ca/register.asp?id=26952&lan=1&