New Zealand camp casts spell on Canadians, as quest for speed marches onward
Bursting through dark mountains like a crimson flame in the tempest, the Canadian women conquered the glaciated trails of New Zealand as their quest for untapped speed and strength drew them to the far reaches of the globe.
Tested by coach and taskmaster Chris Jeffries, Alpine Insurance AWCA athletes Dahria Beatty, Annika Hicks and program alumnus Emily Nishikawa spent three weeks at the hallowed Snow Farm in New Zealand, as Canada sent five of the nation's best to the women's camp prior to the 2017/18 Olympic season.
Logging 18 days on the glacier, ski technique and strength development was the primary goal. The mystic snowscapes of New Zealand created the ideal training environment, allowing the women to log nearly 70 hours on snow with optimal nutrition and ski conditions. Sheep sightings and soulful Lordes melodies were also plentiful.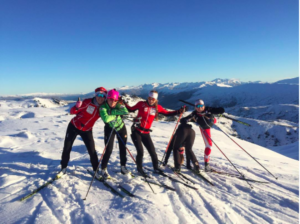 "It was a unique opportunity to have almost three weeks of uninterrupted time on-snow with mid-winter conditions. Every November we are trying to get on snow, usually in variable/marginal conditions, and then spend the bulk of the year, when the snow is at its best, trying to get ready for and recover from racing. Rarely do we take the time we should to spend on technique," Jeffries said. "Everyday in New Zealand we could do technique work, and because we were staying right there, a one min walk from my hotel room to the trail, we had a lot of time between sessions to review video and compare to international trends.  I know the athletes got a lot out of it, and I learned some new stuff too that I am excited to take back to the rest of the team."
Ontario's Katherine Stewart-Jones and Cendrine Browne of Quebec joined the trip, as the team bonded well over the course of the camp. The Academy continues to push for more opportunities for their female athletes.

"All the women at the camp performed really well. I really enjoyed having a mix of girls from across the country. We have spent a lot of energy trying to create a positive team environment for these girls –  an environment that not only will give them the platform they need to succeed individually and as a team, but one that motivates and inspires others to be a part of it. When you hear girls saying 'I love this team so much,' it is a good indicator we are on the right track," Jeffries said.
Prior to the season, Jeffries mapped out a plan to narrow the gap between the Canadians and the rest of the women's field. In order to be competitive on the world cup, the Canadians need to improve their strength and technique. New Zealand is part of that process.
"My takeaway from my time in Europe the last couple of years is that  we do not ski technically well enough, especially at high speeds, in poor conditions, when tired. We are also not strong enough. So much of what we have done this year has been based on those two criteria, and I really felt the payoff was visible in New Zealand."
The camp allowed Jeffries to see the athletes perform under stress, and find small efficiencies along the way. Holding strong technique through a fatigued state separates the pros from the pretenders, and three and four hour on-snow sessions allowed the Canadian women to push their limits.
This was the second year in a row Beatty and Nishikawa made the trip to New Zealand. Beatty said the benefits are invaluable.
"After the spring and early summer, I felt that my overall training was going well, but I didn't feel quite like I was where I wanted to be, especially during intensity sessions. Getting back on snow allowed me to find those little pieces that seemed to be missing during the early season dry-land training. I felt really good throughout the camp and I can safely say it has been my most productive training block of the season to date. My body handled the 69 hours,18 days volume load surprisingly well and the intensity sessions were better than anything I've done on roller skis this year.
Snow time is precious, and the team will now wait until October until they are back on skis.
"Technique has been a targeted gap, so I'm hoping this camp pays off with our athletes improving their technical efficiency, at high speed, in variable conditions, under stress, when fatigued. We only have about two months until we get back on snow with frozen thunder, so the transition to snow will be pretty quick, and we won't have to spend much time doing remedial work.  Above all else, these girls are starting to spend the bulk of their time racing on World Cup, the goal is to bridge the gap and put them in a position to compete with the best in the world," Jeffries said.