With an eye on the 2018 Winter Olympics, the Alpine Insurance Alberta World Cup Academy has announced its stable of high calibre skiers for the 2017/2018 season.
Dahria Beatty, Knute Johnsgaard and Emily Nishikawa appear to be locks for Canada's Olympic team, while Annika Hicks, Patrick Stewart-Jones, Dominique Moncoin-Groulx, and Jack Carlyle are poised to chase starts in Pyeongchang.
"It's fun. This is a big deal to our older athletes. For sure it's in the back of their mind, and for the younger athletes, it's part of their five-year plan," said head coach Chris Jeffries.
Johnsgaard has graduated to the World Cup team, on the strength of his world cup relay medal, while Beatty's three top-30 finishes on the world cup have basically solidified her Olympic spot. Nishikawa is again entering the season as Canada's top female distance skier and is also a surefire bet for the Olympics.
"For first time, we have a chance to prepare for the Olympics instead of training for trials," Jeffries said. "It should make every single day easier to narrow in on what they are trying to do and achieve."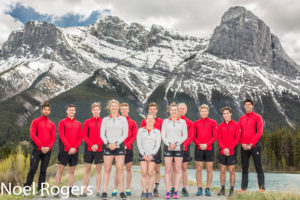 The club has added two new athletes in Etienne Hebert and Laurence Dumais, and sophomore skiers Luke Gerwing, Antoine Hebert and Thomas Manktelow are ready to start chasing bigger goals as part of their five-year plan.
"For the younger athletes, year one is a hard year for them. It's getting to know new people and a new training environment. Year two, you see they are a completely different athlete. You see it in the way they move, the way they train, they way they come prepared. I love year two for an athlete," Jeffries said.
Injuries hampered several new AWCA athletes last season, and the organization is addressing that with improved strength workouts. Working with the Canadian Sport Institute and trainer Shelley Collier, the team is now in the gym four days a week, with two days of weight training and two days of extra activities.
"Health was a challenge and we tried to address that. If we see injuries, let's address that and be stronger. When you look at us internationally, we're not strong enough," Jeffries said.
Tapping into the Bow Valley's IT community, the Academy has also partnered with Zone 4 to break down the team's sprinting performance. Using state of the art timing technology, the team will break down and improve their sprinting speed.
"We are working with Zone 4 and Dan Roycroft on a sprinting project. It's an area of weakness for us, being competitive at the start and being competitive after the first mix zone," Jeffries said.
Jeffries and coach Scott Perras, who is now in his second year with the club, are also working on quality of movement with the athletes. All together, it should create a formula for success.
"Organizationally, we are better set up for success than ever before. We have a new sponsor with Alpine Insurance to support team. Scott is fully integrated and his role continues to evolve. Keegan Brooks can run the wax room by himself and with the Capital Region Training Group and Ian Murray, we have additional training and resources. There is always more going on. We can't help ourselves," Jeffries said.
The team includes: Dahria Beatty, Etienne Hebert, Annika Hicks, Patrick Stewart-Jones, Dominique Moncoin-Groulx, Laurence Dumais, Luke Gerwing, Michael MacIsaac-Jones, Antoine Hebert, Thomas Manktelow and Jack Carlyle.