Bennett finds balance in skis and schooling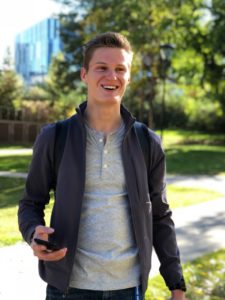 When deciding where to pursue his ski career, Yellowknife's Nick Bennett was picky. He wanted strong coaching. He wanted fast teammates. He wanted academic opportunity. But perhaps most importantly, he didn't want to train in -40 degree weather anymore.
"The coldest I skied in was probably -50 degrees with the wind chill," Bennett said. "We did lots of classic skiing, but not for long. We'd go for 30 minutes, then do some core. I definitely learned a lot about layering."
Now as a member of the Alberta World Cup Academy, Bennett, 18, splits his time in the Bow Valley, where he pursues his biggest ski dreams as well as a University of Calgary degree.
"It's a totally different experience. I really love that. All of the athletes are pursuing their goals. They have invested time and money, and have similar dreams to you," Bennett said.
Bennett started skiing when he was three-years-old with his family in Yellowknife, and eventually showed promise in multiple sports. When it came down to a choice between skiing and speed skating, he opted to stay outdoors.
"I came to the conclusion I liked cross country skiing more. I got to be outside, I wasn't just turning left around a big oval. I didn't realize I wouldn't do both. I had some better friends in skiing, and I liked the fact skiing never had the same conditions. It's about adapting," Bennett said.
He worked with coach Mike Argue in the North, who incidentally was a former teammate of AWCA coach Chris Jeffries. Argue encouraged Bennett to pursue skiing, and he had a scholarship offer from Nipissing University in North Bay, ON, which appeared to be a solid option. However when the option to train with Olympians in Canmore popped up, Bennett changed course.
"At the last minute, I heard about the (Alpine Insurance AWCA) program and thought it was perfect. I had the ability to go to school and pursue skiing at a high level," Bennett said.
He is currently enrolled in a general arts degree with the University of Calgary, taking three courses a semester. He will soon decide between a degree in International Relations or Psychology, but he still has plenty of time to train – if he manages his time correctly. He's displayed great poise and an ability to learn early in his training season.
"It took a while to find a balance with school and training. I had to develop better routines. Admittedly I haven't dialed everything yet, but I keep learning from it. The hardest part is finding the balance between school, sport, social life, nutrition and rest," Bennett said.
The balance includes classes three days a week, with Tuesdays and Thursdays dedicated to studying, training and working on nutrition. It's the highest commitment to sport he's ever made, and with his current training and class load, he considers himself a skier first.
"Being free from home, it's a different challenge. I'm not fighting the extreme cold. It's great to have a team atmosphere with the AWCA, and Chris goes at it from every aspect, which I really appreciate," Bennett said. "Chris keeps up with everything. In the first month I've already seen small gains from the small things he's changed in my technique."
Bennett knows big results are years away, and this season he's focused on a good showing at Canadian Ski Nationals. But he's made a wager on himself, and sees the potential payoff.
"I want to prove what I'm capable of in skiing, but it's about the whole, big picture. I'm trying to prove something to myself. I'm trying to get the best results I can, and see how far I can take it," Bennett said.