Dear Academy Supporters
As everyone knows all too well, last year's racing season ended abruptly in March as the COVID-19 pandemic took hold of everyone's lives.  We still had a lot to prove last year, especially with the opportunity to race against the best in the world in our own backyard at the Canmore World Cups.  With life slowly returning from isolation and with a new normal taking shape, we are excited to announce a new Academy team for the 2020-21 season.  Although we were not able to wage a few last battles, our mission continues.
We have named 25 athletes to this year's Alpine Insurance Alberta World Cup Academy, the largest team in the 12-year history of the Academy.  The make-up of our team is exciting and builds upon the momentum we have created the last couple of years.  Dahria Beatty and Maya MacIsaac-Jones, both coming off seasons in which they scored World Cup points, lead a young team of aspiring skiers looking to follow in their footsteps.  With two top-30 performances at last year's World Junior Championship by Elizabeth Elliott (23rd) and Benita Peiffer (25th), inspired racing by Annika Richardson and Laurence Dumais at World U23s, and a wealth of other top domestic results, the future for this competitive group is bright.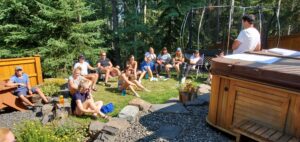 There are some great themes to this year's squad.  17, the number of athletes that are born between the year 2000 and 2002, is in my opinion, our most defining feature of this year's squad.  Made up of athletes from Alberta, British Columbia, Yukon, Northwest Territories and Ontario, all 17 of these athletes are part of our Calgary-University group.  The culture that these athletes have created has led to so much success already. Our intention has always been to build the community aspect of this program, taking away as many barriers as possible so that athletes could feel comfortable pursuing their athletic dreams.  We still see more room for growth within this group over the next 2 years; the best is yet to come.
Biathlon has also taken on a more formal role in the Academy.  As announced earlier this spring, the AIAWCA has partnered with the Biathlon Alberta Training Centre in Canmore to better support a growing group of biathletes that have joined our team.  With 3 biathletes on last year's Academy, including Matthew Strum who competed in his first ever World Cup, and some strong interest from young biathletes hoping to balance sport and post-secondary studies, it was a direction we were motivated to explore. Clubs in Canada have been supporting cross country and biathlon successfully for many years, so this felt like a natural extension of this system.  Of the 9 biathletes joining the Academy, 6 will be based in Calgary and getting their sport specific training with the BATC.  With the strength of this partnership, we know this will be a positive new direction for both the cross country and biathlon communities.
On the coaching side of the Academy, Julia Mehre Ystgaard will be returning for her second year to work with myself to support our athletes.  Julia, who is from Norway, has just completed her University undergraduate degree in coaching and sport psychology, and is excited to fully devote her time to coaching.  All our athletes greatly benefit from the passion that Julia brings, not only in her uncompromised demand for strong technical skiing, but her daily challenge to take more ownership in their training and planning. Developing more autonomous athletes is something that our coaching team is fostering, a trend that is currently building among many of the world's best programs.
Additional coaching support will be provided by long time National Ski Team Member, Dave Nighbor.  His experience coaching athletes who  combine high performance skiing and academics at Nipissing University, make him the perfect choice for our team. His years spent racing  on the international stage and his achievement of 3 top 30 results in his career are sure to be huge assets to our program and athletes.
I would also like to highlight some notable retirements from this spring; Emily Nishikawa, Nathaniel Mah, Sadie White, and Michael MacIsaac-Jones.  Emily Nishikawa, an Academy team member for over 10 years, having just completed an undergraduate degree from Athabasca University, will be pursuing her studies this fall to become a teacher.  Emily has represented the Academy at two Olympic games and has been a great leader and ambassador for women's racing in Canada.  Nathaniel Mah, our country's only member of the national Nordic combined team and represented Canada at multiple-world championships and world cups.  Nathaniel has worked tirelessly over the years to live his dreams and passions while keeping his sport alive in this country.  All our retiring athletes have contributed greatly to the development of our sport in Canada, and we wish them continued success in their new challenges.
Although many questions remain for this year's training and competitive seasons, there is no uncertainty that the Academy continues to be a leader in athlete development in Canada.  We will continue to update you on this year's developments as the year unfolds, including a preview for the 2020-21 race season and the new fluoro ban that the FIS has introduced this year.  Thank you to our many sponsors and supporters who make the success of the Academy program possible.  As provinces continue to navigate the pandemic and we plan our return to play, we look forward to the time when we can gather again to celebrate our accomplishments from yesterday and tomorrow.
Chris Jeffries, Program Director/Head Coach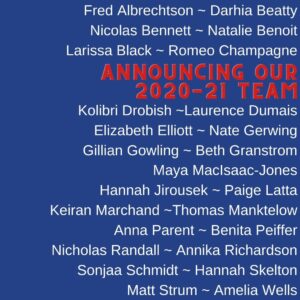 Team Roster 2020-21 (including attended school affiliation)
Fred Albrechtson – Nickel Plate Cross Country Ski Club – University of Calgary
Dahria Beatty – National Ski Team Member – Whitehorse Cross Country Ski Club – Athabasca University
Nicolas Bennett – Yellowknife Ski Club – University of Calgary
Natalie Benoit – Telemark Biathlon Club – University of  Calgary
Larissa Black – Whistler Nordic Ski Club
Romeo Champagne – Biathlon Yukon – University of Calgary
Kolibri Drobish – Revelstoke Nordic Ski Club – Athabasca University
Laurence Dumais – Fondeurs Laurentide – Université Laval
Elizabeth Elliott – Revelstoke Nordic Ski Club – University of Calgary
Nate Gerwing – Rocky Mountain Racers
Gillian Gowling – Whistler Nordic Ski Club – University of Calgary
Beth Granstrom – Revelstoke Nordic Ski Club – University of Calgary
Maya MacIsaac-Jones – Rocky Mountain Racers – Athabasca University
Hannah Jirousek – Whiterhorse Ski Club – University of Calgary
Paige Latta – Sovereign Lake Nordic Ski Club – University of Calgary
Keiran Marchand – Sea to Sky Nordics – SAIT
Thomas Manktelow – Canmore Nordic Ski Club – University of Calgary
Anna Parent – Canmore Nordic Ski Club – Mount Royal University
Benita Peiffer – Whistler Nordic Ski Club – University of Calgary
Nicholas Randall – Big Thunder Ski Club – University of Calgary
Annika Richardson – Hollyburn Ski Club and Lappe Nordic Ski Club – University of Calgary
Sonjaa Schmidt – Whitehorse Ski Club – SAIT
Hannah Skelton – Highlands Trailblazers – University of Calgary
Matt Strum – Canmore Nordic Ski Club
Amelia Wells – Strathcona Nordic Ski Club – University of Calgary