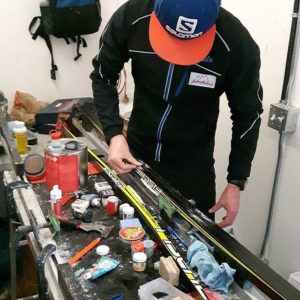 This is an edit of a wax article I wrote a few years ago. The goal was to share some of our processes and highlight some of our favourite waxes. We work very closely with Start ski wax, a sponsor of ours, and this line has become a cornerstone of our wax box. Over the last couple of years, we have been trying to streamline our wax box and through observation, have been moving closer and closer to a two line system. We like to have a Scandinavian line (Start – Finland), and a central European line (in this case we mix and max a couple of different companies). We found that our box was becoming complicated, which didn't allow us to always make timely decisions on race day. So far we have been very happy with the move to this system.
Before I get into wax, I would like to preface this by saying that the wax is only as good as the pair of skis that you are putting it on. I've been very happy with our race service success the last two years, and I think a big part of our success has come from the work we have done with our ski suppliers in picking the right ski. We also have been putting a lot of resources behind understanding each athletes ski bags and where each ski fits in the matrix of temperatures and snow conditions. We are fortunate to not only have the services of The Grinders who pressure map and grind our skis, but Mike and Judy Mappin who take that data and interpret it so that we can use that information with the athletes to make good choices on race day. I strongly encourage you to take the time and potentially spend the money to find the right skis, there are a lot of great people who do this full-time that can help you across the country and in the US.
As for wax, I wanted to take you through our Start wax box. Every company has a lot of waxes, which is costly and overwhelming. Obviously there is a time and place for many waxes in a line, but I think it is most helpful to know what we are using and like. In this article, I'll give you a quick overview of our team waxing philosophy and a run down of our favourite waxes.
Keep it simple!
We have a big team, and with that comes a lot of skis to prepare on race days. In order to deal with the volume and ensure consistent quality, we've had to simplify our system. I learned this after spending time with Joel Jaques and the NST staff, something that has helped them produce great skis over the last few years. You can spend a ton of time testing on race day to find that perfect wax only to have the conditions change and kick you in the ass. We spend a lot of time testing in the days leading up to a big event so that we have a good understanding of the trends and can see what products are working consistently throughout the day and changes in weather.
Looking at glide, our first priority is to find the right base. This might be one of the areas that has changed for us the most over the last year. Three years ago I wrote; "99% of the time, we use a powder overtop, so we will usually run an LF paraffin base. We have never found this to compromise the wear of the powder, and since we race a lot out west where we get a lot of dry snow, the LF is often faster. We stick to a lot of cold parrafins for our base, as we like to have a hard ski. Greens and hardeners are usually our go to."
Since that time, we have seen a warming trend in the weather, particularly out west, causing to shift focus in this area. Combatting dirt, which slows the ski down, is one of our bigger concerns. Generally we now start by using an HF cleaner on our glide base. After that, we try and determine if an HF/LF, roto wax system (Master or Yes), or no paraffin base is our best base layer. Our general findings:
– Below -12 degrees – HF and LF paraffin
– -1 – -12 degrees – YES or Master wax buffer
– -5 to above 0 degrees – clean base
As I mentioned earlier, we generally use a powder. For many clubs, a puck or liquid is much more cost-effective. Skate days we will powder in the morning after some testing, but classic we will always powder the night before so that we can focus on the kick. We also test topcoats (pucks/liquids) to cover our bases, but we generally reserve these for sprint days and last minute adjustments on classic days. Keeping it simple means limiting the number of variables in play. Sticking with a predictable base paraffin, topcoat of choice and structure will give you consistently fast skis.
On classic days, we spend the bulk of our time on kick. In the days leading up to a race, our focus is mostly on binder. Getting the wrong binder can mean slow skis or even worse, bad grip. Nail the right binder, you are over half way there. After that, finding the wax our athletes can kick with good durability is our goal. Generally when we mess up, it's when we've tried to find the fastest wax.
Start 101
Up until last year, I did not have much experience with Start's products. As a young ski racer, LF Green was the bomb, but I didn't know much beyond that. When Phil Villeneuve got involved as a rep for the company, we saw it as a great opportunity to improve our wax box with someone who is passionate about the sport and keen to work with us to get the most out of the line. Phil is at a lot of the big events, a real plus on the service side for both testing and product availability.
HF Paraffin Glide
When we are using paraffins to prep our race skis, I use the HF line 90% of the time now. These waxes cover the range of temperature and snow conditions really well. If at the start of the week we are running the violet but the temperatures cool off, we will move to a colder version without even testing.
LF Green Paraffin Glide
Well, it's still the bomb! As I mentioned last blog, we use LF green for base more often than not. Last year we ran out of this wax mid-season, so we have adjusted our orders this year to ensure that doesn't happen again.
BM4 Paraffin Glide
The BM line is their paraffin with molybdenum, ideal for dirty snow later in the ski season. All of the ranges for this wax are great. What I like about the 4 is in warm conditions, it is harder than the 2 (yellow), and picks up less dirt as a result. A lot of people will mix the 4 and 2 together, and other combinations depending on the conditions. This wax killed it for us in the distance races at Nationals!
SF 30 powder
This is my favourite powder. Its advertised range is +5 to -5, and oddly enough, it first showed its abilities at -20 in Thunder Bay where the snow was old, dry and squeaky. Odd. It was also our best powder that same year at Nationals in Whistler for much of the week when it was +15. That is 35-degree temperature range. It is a good reminder to not get locked in to one way of thinking. Generally this powder runs really well in older or abrasive snow conditions, but as always, best to get to know its versatility yourself.
SFR 40 powder
Same range as the SF30, and mirrors it well. We tend to run this powder in new snow, and had great success with it in such conditions this year already in Silver Star and Soldier Hollow.
SFR75 powder
The coldest powder in the line and a must have in your box. We tend to use this one a lot in Eastern Canada.
FHF 9 powder
We have been using the FHF powder line for the last few years, but I still haven't totally figured it out relative to the SFR line. That said, we use this one a few times every year.
SFR 92/SFR 99/ FHF Blocks
These are our top block covers in our box. I've listed them all together because I think they are equally valuable in your wax box. The 92 will cover you on those cold January days in Thunder Bay, the FHF will rise to the top in newer snow, and the 99 will be there for everything in between. All 3 have a tremendous range beyond what the box recommends. Get these!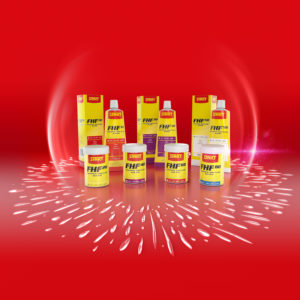 FHF Liquid
Over the last 2 years, this has probably become our most used liquid. We run it often for sprints now in a variety of conditions ranging from 0 to -12 degrees. We have also used it as a base layer before powdering in conditions close to or above 0 degrees. It has a foam application pad that makes for a very easy apply. I do encourage you to give it a quick brush out after, sometimes the liquid can dry and clog up your structure, slowing the ski down.
MFW kick waxes
This line is discontinued for retail, but you can still get your hands on it through a rep or other channels. Living in Alberta, this is a must have. It kicks so easily in dry conditions, yet is very fast. You would never think this based on its very sticky appearance, but applied right it is one of the fastest kickers out there from my experience. A helpful tip is to stick in in the snow to cool it down to help make the application smoother. This is one of the best waxes for clubs to have.
Wide Universal klister
Not sure if it's even necessary to talk about this one. If you don't have this klister in your box, then you are missing one of the core klisters that everyone uses. Everyone! Use it straight up, or better still, mix it with some other klisters to cover just about any range and condition. This klister is the base of about 75% of my klister applications, I go through a ton of this every winter.
Plus Universal klister
If the conditions are above 0 degrees, wet and transformed, I find this klister comes into play nicely.
BM Black Magic klister
I still don't know exactly what this klister does, and haven't really found someone that does either, but I do like it. I added in some dabs to my wide/guru 39 mix in Soldier Hollow for the long distance classic day when conditions were around 0 degrees with hard tracks (with trace amounts of new snow)that broke down as the day went. I found the BM helped add bite to the ski and even improved the glide. We've also used this is warm slush, so something I need to continue to play with.
FHF kick and klister line
I am still playing around with these, but so far I like what I see. Both lines are on the softer side, so it does help to mix them with harder waxes. The klisters seem to be quite popular on the world cup, particularly the universal and red.