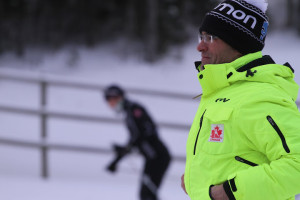 The Alberta World Cup Society wishes to announce that Mike Cavaliere has decided to leave his position of Executive Director of the Academy effective November 15, 2015. Mike's resignation was unexpected and is based on his own desires to advance his career and business opportunities. The AWCS wishes Mike all the very best in his future enterprises and will always be grateful for his leadership of the Academy for 8 years.
Our first concern in this time of transition is to continue supporting the preparations our athletes are making for the coming race season. The Academy's program is capably led by Chris Jeffries and Pavlina Sudrich. This will continue to be the case, and on a day-to-day basis athletes should experience no change in the excellent and supportive training environment the Academy provides. We will be working with Chris to make sure all the "behind the scenes" supporting elements are in place for our coaching team to succeed. We will be making more announcements about this when the full plan is in place.
Mike Cavaliere has led the Alberta World Cup Academy since its inception. Through Mike's leadership, the AWCA has provided a world-class development environment for several generations of athletes that have gone on to further success on the NST, World Championship and Olympic teams. Mike's track record of supporting athletic success at the Academy is unmatched in Canada. Numerous xc coaches in Canada have benefited from Mike's vision for our sport and his impact on Canada's success as a Nordic ski nation is seen from coast to coast to coast. Mike will be missed!
To re-focus on the here and now, I want to make sure all Academy athletes know that we will be continuing to deliver on our program and provide the best possible support for your race ambitions in this coming season. Our coaching team of Chris and Pavlina will be there for you and they will be supported by additional staff and the volunteers of the World Cup Society.
Please don't hesitate to contact Chris, Pavlina, Dale Swanson (AWCA Committee Chair) or myself with any questions or concerns you might have. We will keep you informed at every step along the way.
Sincerely,
Norbert Meier, President
Alberta World Cup Cross Country Society.