For someone who spent most of their summer on crutches, Olivia Bouffard-Nesbitt still has speed to burn.
The 24-year-old smoked the field by two seconds in
Saturday's
open women's sprint qualifier, and ended the day as the top Canadian and fourth overall in the A final at the Sovereign Lake Nordic Centre near Vernon, B.C.
"I was so happy that I was able to find my top speed this weekend. I wasn't sure how and if I would, but I really felt good
Saturday
. It helps that it's also one of my favourite courses on the Noram circuit.
I was also happy with my tactics in the final and I just wish I could have held on in the last 50 m for a podium spot. All in all, (almost) no regrets.
As one of the smoothest skiers in Canada, Bouffard-Nesbitt relied on strong technique to power her through the qualifier, and had an excellent battle with the top Americans Julia Kern and Elizabeth Guiney. Bouffard-Nesbitt blasted out to an early lead in the A Final, gaping the field with ease. However the Americans launched a relentless attack, and Bouffard-Nesbitt, coming off of high volume training, faded in the last 50 metres.
"Olivia was exceptional," said AWCA head coach Chris Jeffries. "Her speed is there. Her fitness is not far off. She still has to manage her foot. But she's feeling healthy and she was happy with the day."
Bouffard-Nesbitt suffered a stress fracture in her foot over the summer, which curtailed her training, so her endurance isn't quite where she wants it at this point in the season. Jeffries said she's come into the year with renewed focus, and is gaining more trust with the AWCA in her second season of training with the high performance centre.
"Olivia is a lot more confident in understanding what she needs to do to be successful. Before, when I was working with her, she was always looking to others for advice on what to do. Now she has a new way of approaching things," Jeffries said. "As a coach, I want the athlete to give their insight and a lot of the time my job is to reaffirm what they are thinking is right."
Maya MacIsaac-Jones used the weekend to test out her injured foot. She finished 22nd and was 13 seconds behind Bouffard-Nesbitt. It was a victory for Maya to simply reach the start line, as she's struggled with an inflamed toe.
"In addition to her foot, Maya had some sickness as well. This was her first hard intensity in a long time. The result was expected and she's happy to have a race," Jeffries said.
There is no timeline for MacIsaac-Jones return, as she is still working with doctors to repair her foot.
"Maya is already preselected to race the U23 World Championships in a month and a half, so we have some time to work with her. You can't take back what she did in the spring and the fall, so the goal is to get her speed and endurance back up. As long as her foot hold up, it could be a great season or it could be a lost season."
Delphine Duvernay Tardif also started for the Academy, and finished in 45th.
Patrick Stewart-Jones, another athlete who spent much of the summer on crutches due to a foot injury, also began to show a return to his old form. Stewart-Jones qualified with the seventh fastest time of the day in the sprints, and finished fifth in the B Final.  Dominique Moncion-Groulx qualified in 25th and Antoine Hebert was 59th on the day in the senior men's category.
AWCA athlete Julien Locke wasn't able to race due to a bad back. He will return in the New Year, Jeffries said.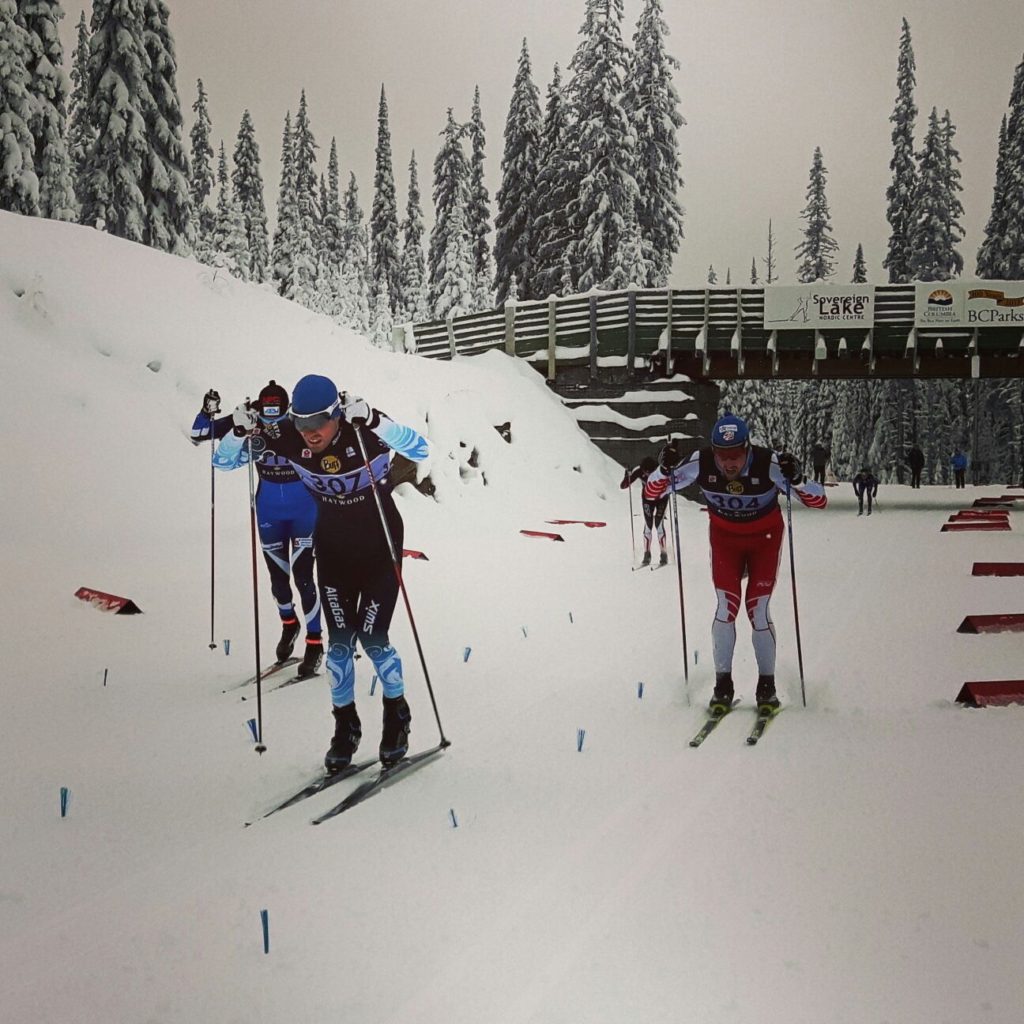 In the junior men's division, Luke Gerwing had a race to remember. The Edmonton native's quickness shone through in the qualifier, as he posted the second fastest time of the day in his age group, chosing to double pole the course. Gerwing reached the B final, where he finished fifth in the heat.
"Two years ago there is no way I would have had the confidence to double pole. I'm really happy with my strength and all the technique work I did with Scott Perras this year," Gerwing said.
"Luke surprised himself. He showed what we have always known. In training, he can battle with the older guys. This was a great result for him," Jeffries said.
Since it's the first NorAm of the season, Jeffries said he isn't too concerned about the lack of podium results in the sprint, but said injuries have thrown a curve ball at the team. In years past, the Academy has often dominated the first weekend of the year with an older group, only to fade later on. Jeffries doesn't think that's in the cards this year.
"Our older athletes like Olivia, Julien, Maya and Patrick… it hasn't been a normal fall. But all things considered, Olivia won the qualifier by two seconds and Patrick skied a great qualifier, so I'm happy with
Saturday
.