Free Masters Recreational Category at The Haywood Noram Western Canadian Championships in Lake Louise. While intended primarily for the FIS "Open" class (Senior Men/Women and Junior Men/Women), we are including a free "Masters / Recreational" category and invite adult skiers who want to experience professionally groomed trails in a race format at Lake Louise.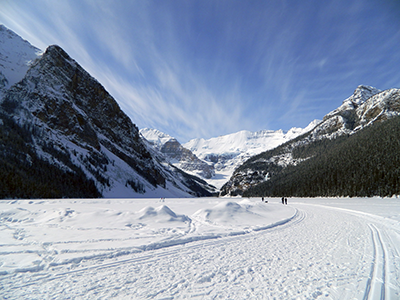 The 10km course will follow a course similar to the annual Lake Louise Loppet – starting on the lake, down the Tramline and up Moraine Lake Road onto the Fairview loop, then back down across the lake and concluding with a short steep loop in front of the Chateau Lake Louise to the finish line on the lake. The trails themselves will not be widened for this event, and will retain their historic "look and feel" – this is part of the attraction of this event.
The proposed Ski Tour Canada 2016 is an exhilarating eight-stage cross country skiing event across Canada that will highlight some of Canada's most iconic and historic ski destinations.
The world's top athletes will meet in Canada for this marquee FIS World Cup competition – the first time that Canada will host the 2015/16 World Cup season finale. The cumulative timed event will feature a mix of distance and sprint races that will build excitement and spectatorship, as the final race approaches and athletes compete to win the coveted Crystal Globes for the 2015/16 World Cup season.
Spectators, Recreational Skiers and Trail Closures
Grooming of the course will begin on January 5 and continue through to race day on January 15. At intermittent times, and for only brief periods, some trails may be closed while grooming with the large machine is in progress.
On "Official Training Day" (January 14) and Race Day (January 15), from 08:00 until approximately 13:00, the Tramline, Fairview, and a portion of the Telemark loop will be closed to the public. Moraine Lake Road will remain open, but recreational skiers will be asked to stay to the left (east) side of the road as far as Fairview junction (2 km).
Additional Information can be found here. Inquires may be sent to info@albertaworldcup.com.