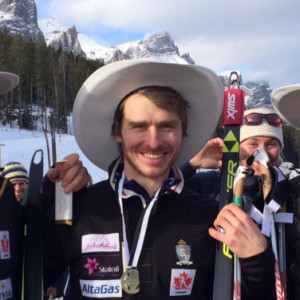 Kevin grew up skiing with his family on the Nordic trails in Kananaskis Country, just outside Calgary, Alberta. At first, he would enjoy watching his family ski from a child carrying backpack, then being pulled on a towrope a couple years later, and eventually skiing himself when the time was right. A member of Foothills Nordic Ski Club, Kevin progressed through the Jackrabbit and Racing Rabbit programs where he enjoyed competing in only races that gave out medals, and only playing capture the flag at training.
Kevin soon began to apply himself fully to the sport after a few years of mentoring from coaches and athletes following high school. After a successful 2007 – 2008 season where he placed 21st at his first World Junior Championships, Kevin built off that success and has continued with it into his senior racing years.
In 2010 Kevin made the next step in his racing career by being nominated to the National Ski team, where he went on to finish 5th at the Under-23 World Championships in Estonia the following year. Despite a NorAm title, numerous podiums and being a Canadian National Aggregate Champion, a gold medal at the National Champs still evades him.
In spring of 2015, after not being able to meet any sort of criteria at the three World Cup's he raced in that season and what seemed like a planned obsolescence by Cross Country Canada, Kevin was kicked off the National Ski Team. It was a tumultuous few weeks following that news, where he debated whether or not to end his ski career. After much internal debate, and discussion with coaches and teammates, Kevin became determined to continue racing and set his focus on this year's Tour de Canada.