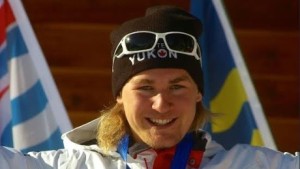 Knute is a Yukon Ski Team member. He spent two years on the Pierre Harvey National Training Centre in Quebec during which time he was also on the Junior National Team. He then moved back to Whitehorse to ski on the self-made team Yukon Elite Squad for the following three seasons. Knute's life long goal of making the Senior National Team was finally achieved this year and he now trains in Canmore with the Alberta World Cup Academy.
Results:
Knute has collected several medals at Noram's and National Championships. His best International result was 14th at U23 World Championships.
Equipment:
Swix poles, Fischer skis and boots, Julbo eye wear
Sponsors:
Air North, BRL Sports Nutrition, Woodski roller skis
Strength in skiing:
Knute's strength in skiing is that he has no weakness.
Fun facts:
At the age of 3 Knute rode his tricycle down a flight of stairs and broke his nose. He'salso been bitten by a squirrel and has done a superman front flip on roller skis.Things you're excited about this year: Hunting season, Tour de Canada