Release by CCC skitrax.com January 19, 2015 (Canmore, AB) – It was a great day for racing, -4 deg. C., as the final day of the Haywood NorAm, Western Canadian Championships wrapped up at the Canmore Nordic Centre on Sunday. On the schedule was mass start, free-technique distance racing.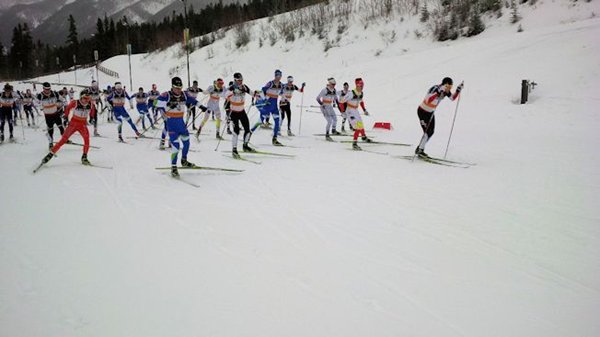 Michael Somppi leads the start followed by Graham Nishikawa, Kevin Sandau, and Andy Shields © CCC
Nishikawa, Somppi Win 10/20km FR at Haywood NorAm Western Canadian Championships (Canmore, AB) – It was a grea http://t.co/M58wzD8CmH

— NA Nordic Ski Mag (@skitrax) January 19, 2015
The open men's race was 20k, 4 laps of 5k, and Colin Ferrie of Kimberley led a pack of the top 12 skiers as they skated through the lap lane at the 5k mark.
At the halfway mark, Black Jack's David Palmer was leading the way with eight other skiers including Saskatchewan biathlete Scott Perras, a 2014 Sochi competitor. In the next 5k this group was whittled down to a podium trio of Kevin Sandau from Foothills Nordic, Michael Somppi of Lappe and Perras, with the next closest skiers half a minute behind.
After Thursday's bronze medal finish, the 14th of his NorAm career, Somppi had stated "…it was time to string together some wins". With 1km to go Somppi pulled away from Perras to win by a 2-second margin with Sandau a couple of seconds back in 3rd. On Saturday Somppi claimed the Buff sprint crown and on Sunday he made it 2-for-2, which is the start of a string.
Michael Somppi
"It was good to see the Blackjack guys willing to go out in front and pull for the first part of the race.
I felt pretty good after the sprint yesterday so thought if I stayed in contact I'd have a pretty good chance in the sprint. Scott led out up the wall on the last lap. I was able to follow but Kevin didn't seem to have much left to respond. I attacked with 1 km left and was able to get by Scott and was comfortable with my sprint. I was glad Jesse (Cockney, a strong sprinter, who raced to 8th in the World Cup Team sprint this morning) wasn't in the race today."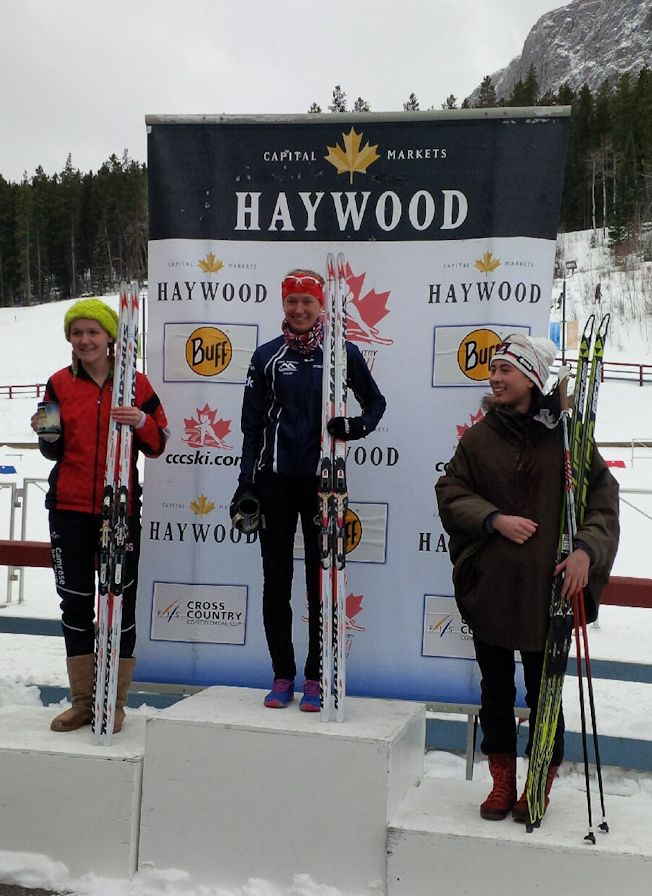 Jr. Women's Podium © CCC
There was also a race within the race – the junior men's competition. Hanna Pearce of Rocky Mountain Racers and Peter Hicks of Canmore skied together for much of the race before Pearce skied to a 10-second advantage on the last lap, finishing 21st overall. Another Canmore racer Aidan Millar was the 3rd junior, a bit over a minute back.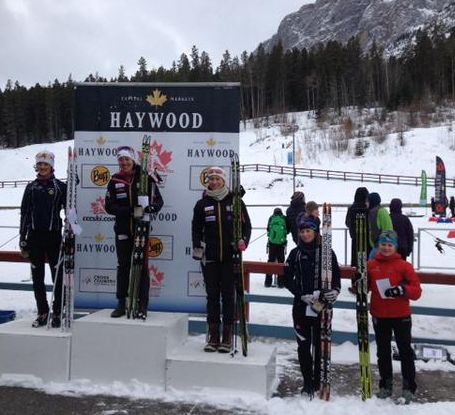 Sr. Women's podium, Left to right – Olivia Bouffard-Nesbitt, Emily Nishikawa, Dahria Beatty, Andrea Dupont, Annika Hicks.
In the women's 1okm FR race Emily Nishikawa from Whitehorse showed she is probably the fastest distance skier in the country by winning by a 1-1/2 minute margin over Olivia Bouffard-Nesbitt of Fondeurs Laurentide. The racers skied together for the first 5km before Nishikawa turned on the jets over the next 10k. Nesbitt had a 30-second lead over her nearest competitor with 5k remaining, but was almost beaten to the finish by Nishikawa's club teammate Dahria Beatty.
In the junior women's competition Ember Large of Rocky Mountain Racers led the way early and never looked back to claim a gold to add to her two silvers at the event. There was quite a battle for 2nd and 3rd between Leilani Tam Von Burg of Chelsea Nordique and Emily McIlroy of Camrose. The Chelsea skier led by 14 seconds over the first 5km, but McIlroy fought back to even things up after 10k and then would ski on to claim 2nd by a 15-second margin.

Para-Nordic podium © CCC
There were four Para-Nordic racers on the course today with Derek Zaplotinsky competing in the men's race and Emily Suchy of Revelstoke having the fastest time for the women. Ana Lucas of U of A Nordic was 15 seconds ahead of Kara Douville of Foothills Nordic.
That wraps up the Haywood NorAm, Western Canadian Championships at the Canmore Nordic Centre. Next up on the Haywood NorAm schedule are the Eastern Canadian Championships, including a Buff Sprint, Jan. 30 – Feb. 1 at Nakkertok Ski Club in Cantley, Quebec.
Full results here.