Article written by AWCA athlete Kevin Sandau –
Easterns marks the halfway point of the race season. The older I get the faster time seems to move. The hours of heavy training between May and the first snowflakes have past by like [rain on the mountains, like wind in the meadow] a blur, and weeks of racing have been ticked off, from our first SuperTour in West Yellowstone, to Canmore, Sovereign, US Nationals, and Trials in Thunder Bay.
So far I've managed to accomplish everything I've set out to do, balancing hard racing with aggressive training. The past few months have been the best I've ever had, encompassing everything from an epic early snowfall, to training, racing, and travelling with teammates. I'm in a really positive headspace, and that is keeping me fresh and poised to pursue my ultimate goal this season. The idiom, "Time flies when you're having fun" is resonating with me this season.
My summer of training carried the same intensity and focus as previous years, but this new season also brought change. Chris Jeffries took over as head coach of the Alberta World Cup Academy and subsequently began working with me directly. Pavlina Sudrich also came on board this year as the team's new assistant coach. Between Chris, Pav and I we developed a plan that would target my weaknesses and hone my strengths. I attacked my generally weak upper body and subsequent weak double poling ability with new strength specific workouts. I returned to the nutritional and sleep habits from back in my Under-23 days. Summer rollerski workouts to develop a high explosive speed had me motor-pacing behind Coach Pav on her e-bike, pushing both of us to go really, really fast.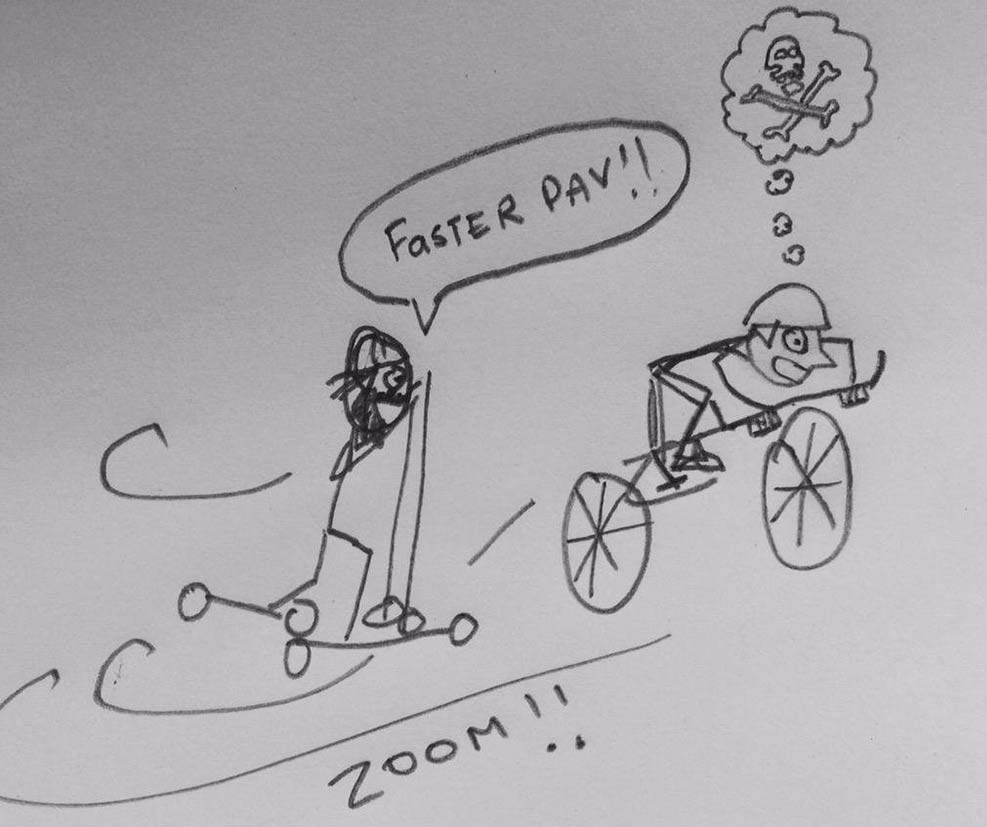 A photo wouldn't really the motor-pacing workouts justice, but how about a drawing? (Credit Coach Pav's drawing skills)
Adding volume to my training came easily to me. The most noteworthy training blocks I put in over the past eight months took place up in Kananaskis Country. Some of these blocks, or mini camps, were with my teammates and some were solo endeavors. With the sense of adventure, it was those 40km runs to the tops of peaks or the 6-hour solitary roller skis out in the wilderness that really put things into perspective. First and foremost, and I love being outdoors.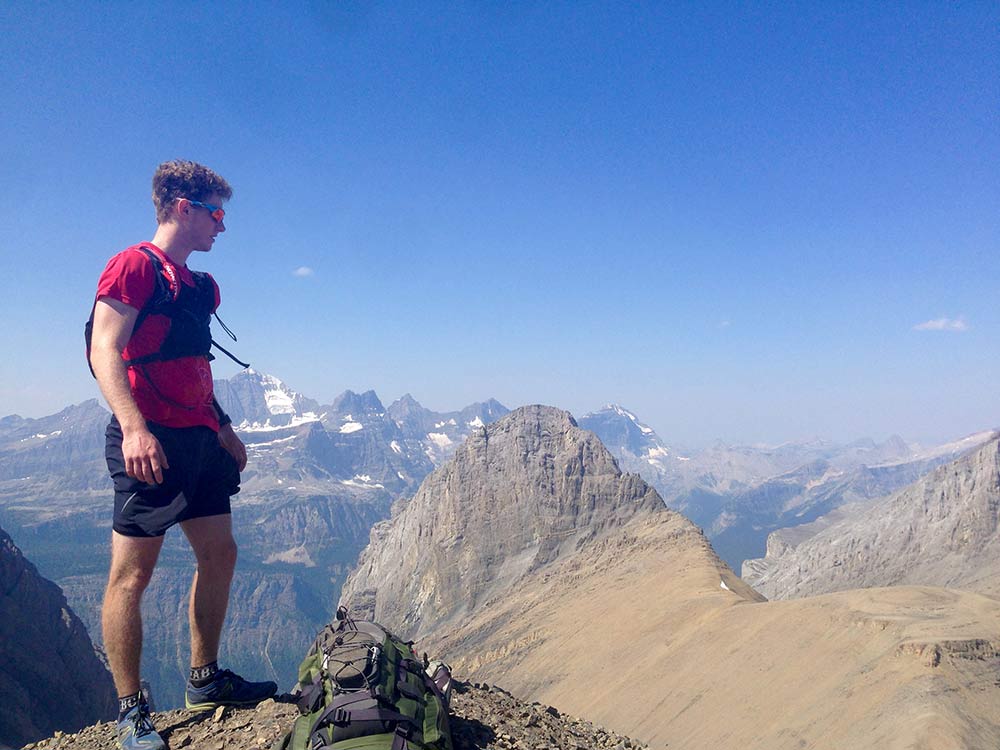 Teammate Jack Carlyle at the top of North Over Ridge in Kananaskis Country during one of our mini-camps.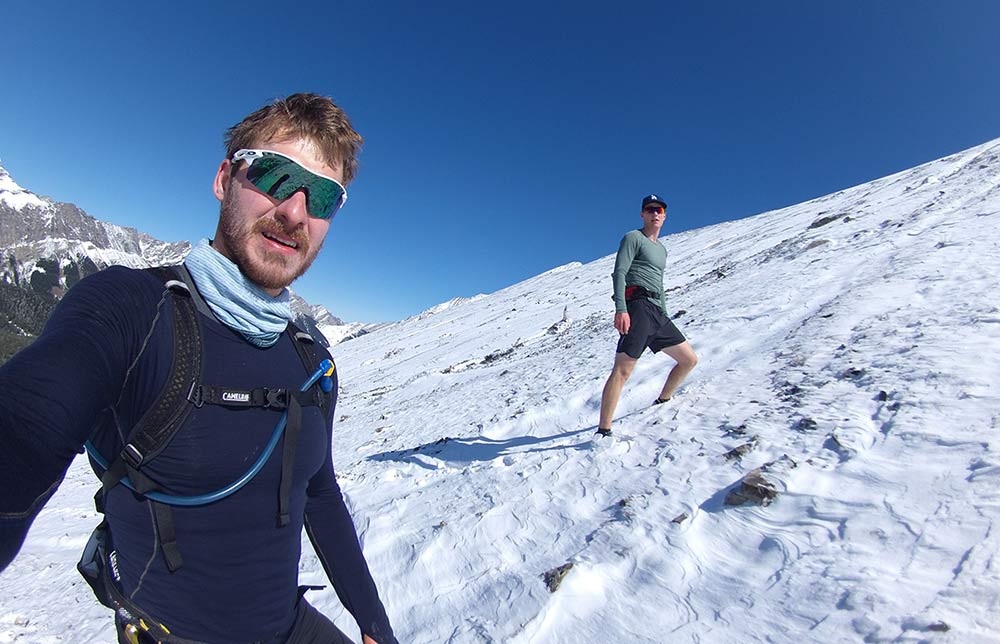 A week later we were still looking for mountain tops to climb, this time out near Elbow Pass and with a fresh helping of snow. Note: Even if a mountain ridge looks like it SHOULD have a suitable descent route from afar, that is not always the case.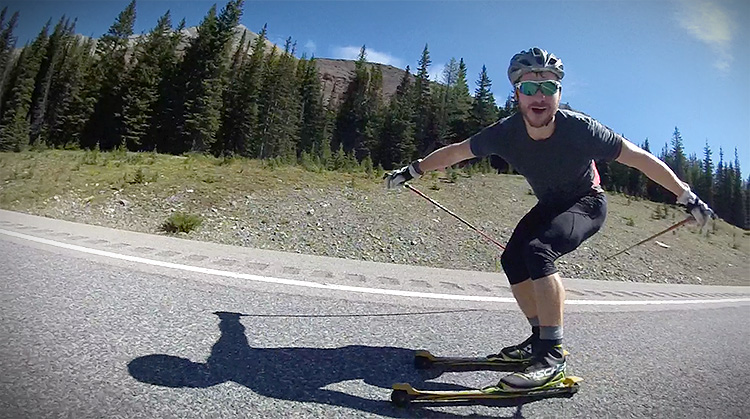 Cruising out and about on Highwood Pass.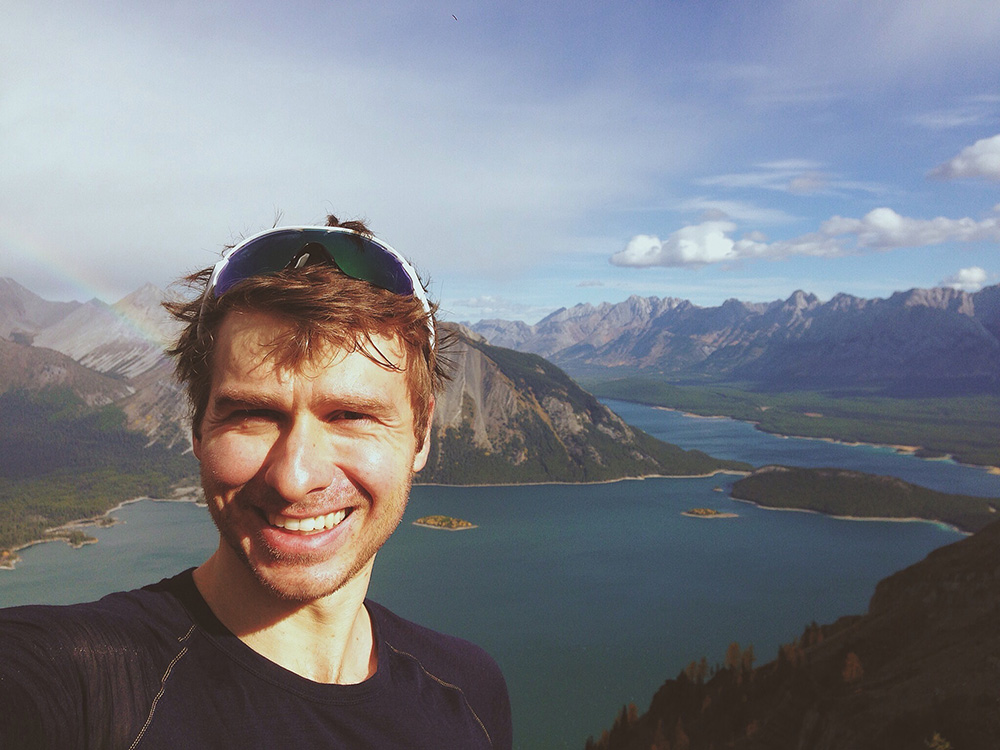 Selfie overlooking the Kananaskis Lakes and my training grounds for the long summer workouts.
A good start to the early season races has left me undefeated in Canadian distance races and my sprinting ability continues to show improvement. It's that sort of affirmation that shows me that I'm on the right track. Four weeks remain until the Ski Tour Canada. That is, and always has been my end game, my opus magnum this season. Back in May when I struggled with a reason to return, the pull of this epic event was the big motivator to continue. In my nine years as a high performance athlete, I've raced three domestic World Cups, all of which were in Canmore. The chance to race eight races over thirteen days across the country is an opportunity I couldn't turn down.
Keeping the NorAm Leader's bib moving into the second half of the season. (credit Martin Kaiser)
With the early season success came the opportunity to race some selected World Cups in Europe. I declined the offer. It was a controversial choice, but one I ultimately had to make in order to honor my goals for the season. As tempting as the World Cups in the Czech Republic, Norway, and Sweden would be, the races didn't align with my focus for the season. Back in May my coaches and I came up with a plan we felt could give me my best chance at International success. That focus purely came down to qualifying for, and racing my guts out at the Tour.
'Don't waiver, have confidence, stick to the plan.'
This has been the mantra.
I have to believe everything that happened this season has prepared me for my best chance at getting back on the horse. Call it the need for vindication, but World Cups are a touchy subject for me. At this point in my career I know home field advantage with a carefully planned and deliberate lead in will give me my best chance at World Cup redemption. There's no nice way to put it; these are do or die races for me, so everything is on the line.