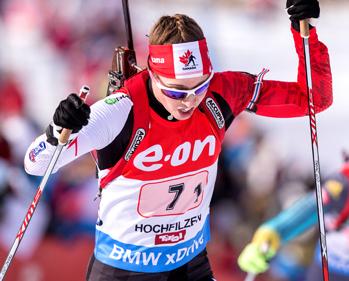 Congratulations to @biathloncanada's Megan #Heinicke who was 11th today in #Ruhpolding Sprint her best result on World Cup! #biathlon

— biathlon23 (@biathlon23) January 16, 2015
Women's 7.5km Sprint IBU WCup @Ruhpolding 1 Horn 2 Domracheva 3 Eckhoff 11 Heinicke (Can) 24 @SusanDunklee (USA) pic.twitter.com/OWe7EgWOmd

— NA Nordic Ski Mag (@skitrax) January 16, 2015
Canada's Heinicke Scores Career-best 11th as Horn Wins First IBU WCup @Ruhpolding Sprint
By skitrax.com January 16, 2015 (Ruhpolding, Germany) – Canada's Megan Heinicke earned a personal-best 11th in the women's 7.5km Sprint with one penalty at the IBU Biathlon World Cup in Rupholding, Germany on Friday. Norway's Fanny Welle-Strand Horn (NOR) bested Darya Domracheva (BLR) by 3.4s in what was her first World Cup victory as Tiril Eckhoff (NOR) powered to the bronze medal.
"This was one of my strongest skiing performances ever. I simply felt strong and there is nothing more fun than fighting hard when you feel strong," said Heinicke, 26, who had great skis on the wet and slushy conditions. "Shooting wise I had been trying out some keywords and those were all I wanted to think about on the range. I have just been slowly getting more confident on the range. It is always great when the skiing and the shooting come together on the same day.