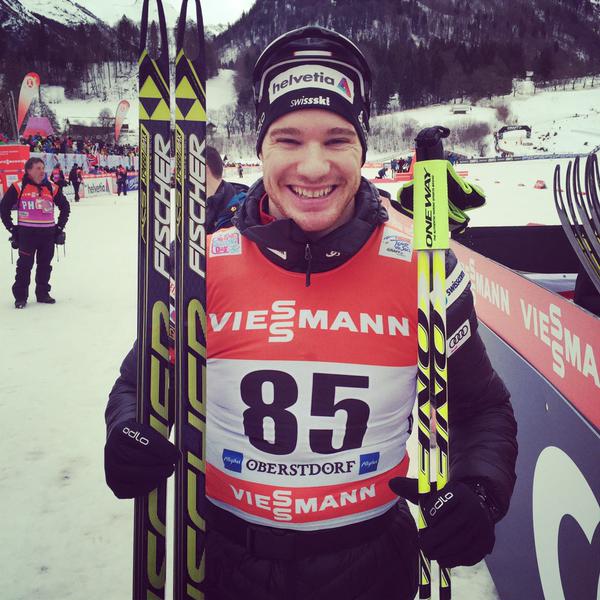 cccski.com OBERSTDORF, Ger.—Alex Harvey had a feeling the second he put his skis on for warm-up it was going to be a good day in Oberstdorf, Germany.
A good day it was as the two-time Olympian skied to a silver medal in the men's 15-kilometre mass start pursuit, which marked the second stage of the prestigious seven-race Tour de Ski. Harvey, of St-Ferreol-les-Neiges, Que., clocked a time of 42 minutes, 01.8 seconds (42:01.8).
"The key to the Tour is recovery. I ate really well yesterday and this morning. I woke up really confident and I just really liked the feeling as soon as I put the skis on today," said Harvey. "The wax techs did a great job. The skis were fast and perfect for the conditions."
Starting in 13th position, just over 20 seconds behind first-stage winner Dario Cologna, the 26-year-old Canuck worked hard with overall World Cup leader and last year's Tour winner, Martin Johnsrud Sundby of Norway, to close the sizeable gap in the first two laps.
"I knew Sundby would want to close the gap early. We started really hard as I expected," said Harvey adding it was an extremely fast pace for the first two of six laps around the 2.5-kilometre tricky track which features three sizeable hills.
"I was pretty tired early so just tried to ski more controlled in the third and fourth lap. The conditions were icy and even dirty in places so on the last lap I stayed out of trouble, especially up the final hill, to set myself up for good sprint for the finish."
Racing in an elite group with four athletes down the finishing stretch, Harvey was edged out of winning the gold by Norwegian rival, Petter Northug, who posted a time of 42:01.2. Sweden's Calle Halvarsson dropped one spot following yesterday's silver-medal performance, claiming third place with a time of 42:02.0.
Three other Canadians also had solid outings. Ivan Babikov, of Canmore, Alta., bolted 27 spots up the standings with one of the strongest classic-ski races of his career, finishing 30th at 43:17.8. Devon Kershaw, of Sudbury, Ont., also climbed into 36th place with a time of 43:38.7. Toronto's Len Valjas was 83rd (47:23.2).