The first race of the Haywood NorAm Western Canadian Championships got underway today from Lake Louise, Alberta one of Canada's most famous tourist sites. Many of the country's top racers were in attendance, following a quick trip west after last weekend's Haywood races at Highlands Nordic.
Racing resumes on Saturday at the Canmore Nordic Centre with skate sprints sponsored by Buff.
Haywood RACE Report:@KevinSandau & @emnish89 claim Haywood NorAm Wins in #LakeLouise! http://t.co/hiPgXHyFNI @WorldCupAcademy @canmorenordic

— Cross Country Canada (@cccski) January 15, 2015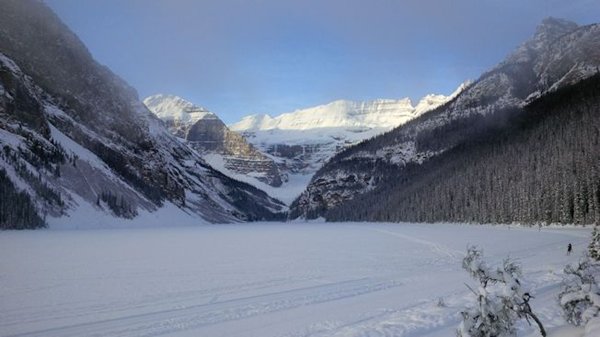 The view from the finish line
The race is a test event for a stop of Ski Tour Canada 2016, a World Cup race series that will feature 8 races across Canada in 12 days next March. It is definitely one of the more picturesque race sites in Canada.

Chateau Lake Louise and the stadium from the trails
The men's 10k classic race saw Bob Thompson of Team Hardwood setting the early pace as a few skiers, including Brian McKeever of Lifesport who opted to use skate skis. Foothills Nordic's Kevin Sandau wnet with waxed skis posting his 2nd Haywood NorAm win in a row by a 3 second margin over McKeever. Michael Somppi of Lappe who had also used grip wax was another 20 seconds back in 3rd.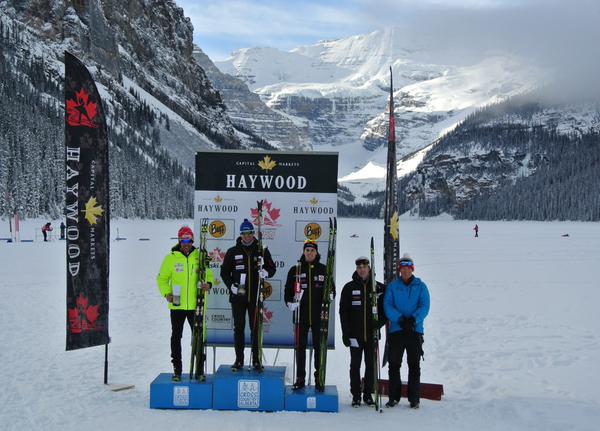 Sr. Men's podium
The junior race was won by Peter Hicks of Canmore Nordic, followed by Gareth Williams of Telemark and Tate Macdonald of Edmonton Nordic.

Emily Nishikawa at the 9k mark
The women's race was also 10k, with Emily Nishikawa marking a strong day for Whitehorse with a 38 second win over Perianne Jones of Nakkertok. Third place went to another Whitehorse skier, Dahria Beatty.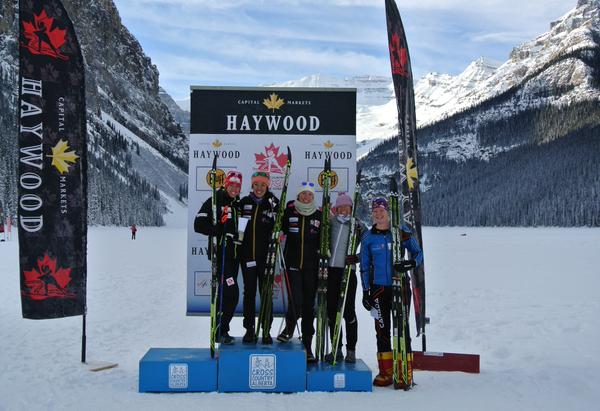 Sr. Women's podium
In the Junior class Whitehorse's Annah Hanthorn was first, with Ember Large of Rocky Mountain Racers 2nd and Morgan Rogers of Canmore 3rd.
Thanks to Cross Country Canada for great coverage of the event. The Haywood LIVE Report is powered by Haywood Securities Inc. – a proud sponsor of the National Cross Country Ski Team.
Fun race in Lake Louise today. Double polling almost got me the W, but fell short in a close one to @KevinSandau. A good battle! – Brian McKeever