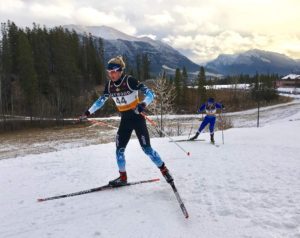 Hometown hero Thomas Manktelow has spent a dizzying amount of time skiing on Canmore's Frozen Thunder loop over his young career, and that local knowledge paid off with a silver and bronze medal performance in the Junior Men's division in the first Alberta Cup race weekend of the year (Nov 26-27)
Manktelow, 18, is in his first year with the Alberta World Cup Academy, but showed veteran's poise with a pair of excellent races to open the season. He took bronze in Saturday's 10 km skate sprint (32:48), finishing behind Canmore compatriots Ty and Reed Godfrey. Sunday's classic result was even stronger, as he took silver in the 8.1 km race
with a time of (20:21), as only Reed Godfrey was able to best him on the day.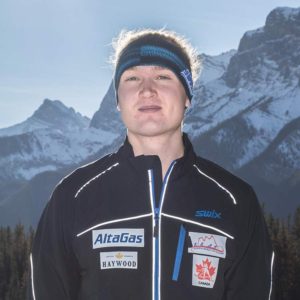 "I skied it really smooth and tried to keep the long glide with my technique. I could have been a little quicker off the start, but there's always room to improve," Manktelow said.
Academically and athletically inclined, Manktelow was a stand-out with the Canmore Nordic Ski Club before making the leap to high performance skiing with The Academy. The young skier is chasing a spot on Canada's world junior championships team, which will be held in Soldier Hollow, Utah. The early medals are a good sign of fitness, and he said course knowledge played a big role on the day
"I've done thousads (of loops on Frozen Thunder). It's great.
We get a month of skiing compared to everyone else in Canada and it's five minutes from the house," Manktelow said.
AWCA head coach Chris Jeffries said the early result is a good sign for Manktelow, as he's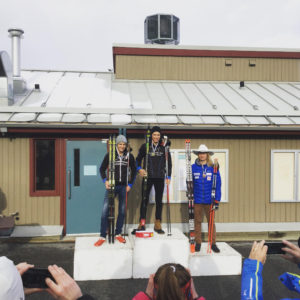 working hard to chase his  dreams.
"You have a young 18-year-old kid who made the choice to ski here. There's always a bit ofan unknown with that. For him to have a positive first weekend and feel like he was competitive is great. He's a super talented kid with a really good head on
his shoulders. Hopefully the trend continues up. The best is yet to come with Thomas," Jeffries said.
Dominique Moncion-Groulx won bronze in the senior men's classic race against a tough field which included several Canadian World Cup veterans. Moncion-Groulx actually recorded the fastest lap of the day with a blistering start, and the Quebecois speed merchant held on for the podium. American Kyle Bratrud took the win.
"I didn't know if I was in the game, but I was happily surprised when I was third," Moncion-Groulx said. "It's an improvement, and there are definitely some good guys racing. It's a good confidence boost."
Click here to watch a clip of the race 
The AWCA women weren't to be outdone in the senior women's division. Olivia Bouffard-Nesbitt took bronze in the classic distance, just behind Americans Felicia Geisor and Caitlin Gregg. Queen of the kitchen dance party, Bouffard-Nesbitt is still
recovering from a stress fracture which left her on crutches for three months this past summer, but demonstrated her picture-perfect stride has Greetings! not suffered as she is targeting the 2018 Winter Olympics.
"I know I need to step up to the challenge. I feel the pressure and it's helping me become a better athlete," Bouffard-Nesbitt said.
Coaches Report
Jeffries was pleased to see strong results, however he stressed there is a lot of work still to be done, and it's important to keep the focus on the big goals. The majority of AWCA athletes will peak for the world junior and U23 trials races in February in Utah, while others are targeting Canadian Ski Nationals in Canmore.
"It's an Alberta Cup at the start of the year. The message we have stressed is we are really keying in on January, February, March. It's so easy to get caught up in the first races. We were really process driven. For this time of year we're quite satisfied," Jeffries said.
The domestic skiers now have two weeks to prepare for the first NORAM race of the season, scheduled for Dec. 10 in Vernon, B.C. Visit 
Alberta World Cup Society
 to follow the team's season.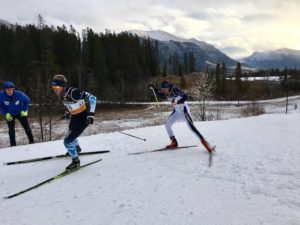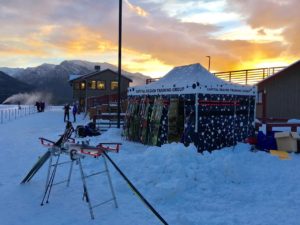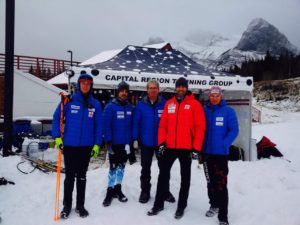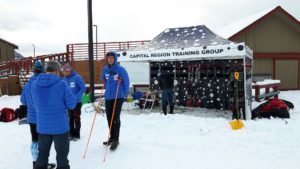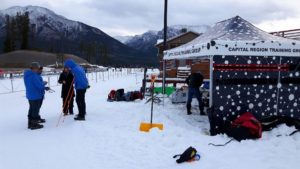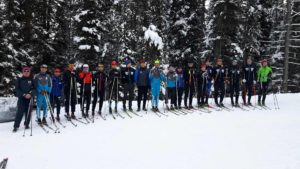 Alberta World Cup Team went to Lake Louise Thursday to do a training session with the Korean team from the Gangwon
Province.  The team comprised of athletes ranging from 13 to 18 years of age, and joined our athletes for a distance ski with some race prep intensity.
---
AWCA on the World Cup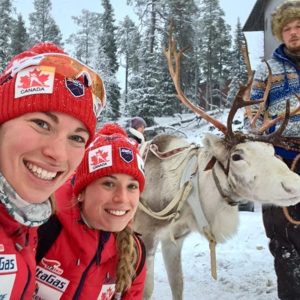 Dahria Beatty and Knute Johnsgaard both made their World Cup season debuts Saturday (Nov 26) in Ruka, Finland, and the Yukon natives were in tough against the best Nordic athletes on the planet.
The two northern skiers known for their tenacity and drive said they gained valuable experience skiing for Canada, as they attempt to carve out a niche on the world tour.
Beatty, 22, was the top Canadian woman in the sprint, finishing 50th in the classic sprint, eight seconds outside of the top 30. As one of Canada's top sprint prospects, she set her expectations high, but is well aware the route to the top is full of curves.
"My race was good overall today. I skied the final climb poorly but was happy with my double pole sections and the overall feel. I had pretty much no kick, but that was the case for a lot of the teams," Beatty said of Saturday's result. She was well off the pace in Sunday's 10 km classic race.
Johnsgaard was 69th in the men's sprint qualifier, and 85th in Sunday's 15 km classic.
"(Saturday) I thought was quite good. I was looking forward to bomb-proof klister we had on Friday, when I really should have been practicing herring bone," Johnsgaard said. "Sunday, I felt pretty good, actually, but everyone here is just really fast."
The World Cup group travels to Lillehammer, Norway for the second race weekend of the season, beginning with a sprint race on Dec. 2.