Read a PDF edition of the Alberta Nordic Skier Annual 2014 here.
With Thanks to Cross Country Alberta.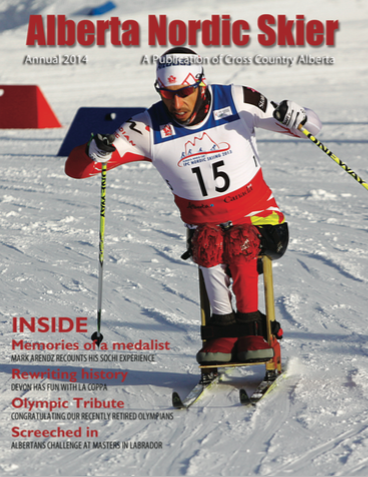 Table of Contents.
CCA BUSINESS
Messages from the Chairperson and Sport Manager. Special Recognitions.
SKI CLUBS
Alberta Club Directory.
COMPETITIVE SKIERS
Alberta Ski Teams.
Alberta Cups.
Alberta Loppet Series.
2014-2015 Events Schedule.
ARTICLES
Coaching the female athlete Students get first taste of skiing Memories of a Sochi medalist.
Russia dominates at IPC World Cup.
Devon Nordic Bears revive La Coppa Alf's summit a true test at Masters Ski Fit North Alberta.
Alberta earns fair play pin at Arctic Games AWCA reaching new heights.