After getting their butts kicked last weekend in Silver Star, the AWCA senior skiers stepped up in a big way in Rossland, BC.
Olivia Bouffard-Nesbitt, Julian Locke and Jack Carlyle  brought great performances, much to the delight of coach Scott Perras.
"For everyone it was a sign they are moving in the right direction. It shows the plan has purpose and our racers are learning to perform. Some are getting rewarded with results, and some are still looking.
Bouffard-Nesbitt kicked off the medal parade
Friday
(Dec. 16)  with a bronze medal in the the 10 km skate with a time of 32:05. She was the top Canadian, as American Chelsea Little was untouchable with her time of 29:37.8.
She followed that up with a silver medal in the open women's skate race
saturday
, narrowly missing gold behind American Erica Flowers. Bouffard-Nesbitt finished her weekend with a fifth place finish in the interval start classic race, which placed her in third overall on the weekend.
"Olivia continues to impress me. She definitely has race savvy and the energy to compete," Perras said. "I think (
Sunday
), she would have liked to have ended up higher in the standings, but she is grateful she is where she is."
Bouffard-Nesbitt is still bouncing back from stress fracture injuries which robbed her of weeks of training, so the AWCA coaches are scaling back her training this week.
"Her plan is a bit different. She had a bit more rest coming into the season, and now is time to sit back and realize how well it went," Perras said.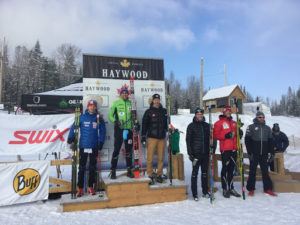 Fresh off the plane from Norway, Jack Carlyle literally rushed from the airport and into a race bib in Rossland. He began the weekend with a fifth place finish in the 15 km skate, gutted his way into the heats in
Saturday's
sprint, and took silver in
Sunday's
classic 15 km race.
"Jack threw down some big races. These were definitely some of his best results on the NorAms. He came back from Europe, where he saw the pace over there, and it translated into performance," Perras said.
"For Jack, the biggest lesson was he was able to see what he's capable of. At U.S. Nationals he will be just as strong, and possibly stronger. The confidence he gained racing in Europe outweighed any negative effects."
Racing on his home course and returning from injury, sprint specialist Locke's incredible power was on display in the sprint. He finished second to American Andy Newell, who was 36th the week before on the World cup.
"Julian looked good. It's easy to see his race IQ and interesting to see his mindset. He is ready to take lines when they appear on the sprint course, where it is easy to be timid," Perras said. Injuries haven't derailed the talented sprinter, and Locke will contend for a spot on Canada's World Championship team.
"He's always been a big picture guy. His goal is still the Olympics and
in six weeks
time he wants to perform at world championship qualifiers. He's on a different path than some of our other guys… I told him Newell isn't such a bad guy to be second to."
Patrick Stewart-Jones and Maya MacIsaac-Jones also returned from injury to race, and Perras said their form is still coming. They will see their training volume ramp up as they rediscover their racing fitness. Both had massive smiles and were happy to simply race once again.
Dominique Moncion-Groulx and Dephine Duvarnay Tardiff also raced well, and picked up valuable experience racing with the top athletes.
"Dominique has had a good training year. He has hit his training points better than anyone on the team. If there is anyone who has stuck to the plan, it's him. It should all unfold for him," Perras said. "Delphine had a really good weekend. She wanted to do the three day race weekend and it was a good opportunity for her to spend a week with the older girls, who have a real positive attitude. She learned how to be ready to race, and to be aggressive."
The team will have a small holiday break and return with a Lake Louise Training Camp on
Dec. 27
.