The Alberta World Cup Academy develops Athletes, Coaches and Officials for international standards of excellence.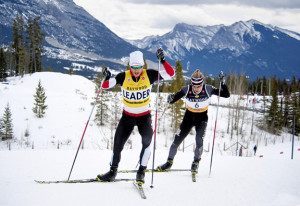 Upcoming events include the Masters Ski Camp in December 2014, The Haywood NorAm 2015 Western Championships in January 2015, and the national FIS event, the proposed Ski Tour Canada in February 2016.
Recent events include the International Paralympic Competition World Cup Dec. 2013 and Olympic Trials Jan. 2014. The Sochi Olympics were particularly exciting for AWCA athletes.
The Academy operates a full-time, year-round training and competition program for high performance athletes aspiring to international success. The program is a designated National Development Centre supported by Cross Country Canada.
The Alberta World Cup Academy works with Cross Country Canada and Cross Country Alberta to develop and maintain the calibre of officials required to plan, organize and deliver international competitions. The Academy develops coaches by providing practical experience to complement the academic foundation provided by the National Coaching Institute.
The Academy is operated by the Alberta World Cup Society, a not-for-profit organization. The Society was founded by the Foothills Nordic Ski Club in Calgary and the Canmore Nordic Ski Club in 2004 with the objective of bringing further FIS World Cup events to Canada. The founders built on precious experience – as co-hosts of the Nordic and Biathlon events in the 1988 Winter Olympics and 1995 World Masters Championships. The Society hosted FIS World Cups at the Canmore Nordic Centre in 2005, 2008, 2010 and 2012.
Academy News, World Class Coaches, Mike Cavaliere.